Are YOU ready to become an independent agency owner?
If you are ready to begin this exciting and rewarding journey, Agency Activate will equip you with the knowledge and tools to successfully open and operate an independent insurance agency.
Agency Activate is a step-by-step guide comprised of on-demand video modules that you can watch (and revisit) at your own pace. Customizable planning documents and worksheets are also included to help you activate your agency in less time while minimizing costly mistakes and expenses. With Agency Activate, you can successfully navigate the critical first steps of starting an agency including:
Agency Ownership
Branding
Business Planning
Marketing Plan
Financial Planning
Legal & Tax Issues
Agency Operations
Carrier Relationships
Sales
Hiring & Outsourcing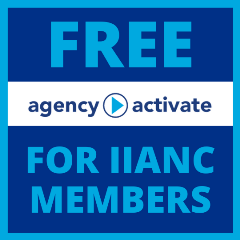 We strongly recommend that start up agencies invest in the Agency Activate program to put you on a path to success. The investment now will pay off greatly in the long run. With Agency Activate, you will gain the information to create a custom agency that leverages your unique skills and interests for maximum success.
This on-demand video course is available AT NO COST for IIANC members! (That's a $497 savings!) Simply click on the button below and log in with your IIANC membership credentials to access your FREE PROMO CODE for Agency Activate.
IIANC members must login to this page to have access to Agency Activate. Not a member? Join today!
Not an IIANC member but still interested?
You can choose to pay full price for this fantastic course (which is $497) OR you can
join IIANC
as an agency member and gain access for free (plus many other valuable benefits)! Contact
Jill Lewis
, IIANC Membership Coordinator, at
jlewis@iianc.com
or 919-863-6542 to
learn more
about membership.
I can't say enough great things about the Agency Activate program! It provided some very good, sound information about things that a business owner will need to consider as well as practical examples on how to apply those to your agency. I loved the short, concise videos that were broken out under each section. I appreciated that the program covered all options of starting an agency – whether from scratch, purchasing an existing book or even working with another agency until you're able to get your own appointments. Overall, I found the Agency Activate training to be very rewarding and beneficial. It helped me to really take a closer look at my business and develop a framework in which to operate from for success. I would definitely recommend Agency Activate to anyone that is looking to start their own agency. The knowledge that was shared was invaluable to me!

- Deirdre Rushin, Imperial Insurance & Financial Solutions