InsurAcademy Graduates: Where are They Now?
April 25, 2022
Lindsay Wallace
Abbie Whitlock
InsurAcademy Graduate - Summer 2021
Abbie graduated from our inaugural class of InsurAcademy in the Summer of 2021 and now works for the Young Group of Fuquay.
---
What is your job title?
My job title is Personal Lines Agent and CSR for the Young Group of Fuquay.
What are your day-to-day responsibilities?
My current day-to-day responsibilities include quoting and selling anything from home, car, boats, RV, and umbrella policies. I also reach out to current prospects and create email marketing campaigns to recruit new clients.
Are you enjoying it? And what do you enjoy most about it?
I am enjoying it! I really like finding a way to give people peace of mind and helping my clients walk through these processes that are new to them. I also really enjoy being able to help my clients save money during these crazy times.
Where do you hope to see your career go in the next couple of years?
I have not nailed down a clear path yet, as I am still exploring my options. My plan right now is to learn as much as I can about the industry and see where it takes me!
What advice would you give to someone who just graduated from InsurAcademy?
Try to learn something new every day! There are so many different ways to learn, so try to gain as much knowledge as you can in as many ways as you can!
---
If you know someone who is interested in entering the industry, tell them about InsurAcademy! Applications are now open for our summer 2022 sessions, and we would love to have them apply!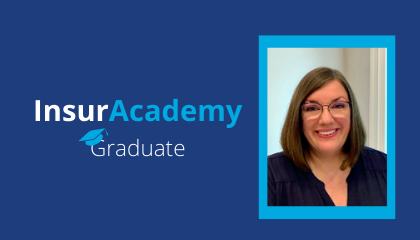 Author
Lindsay Wallace