RPost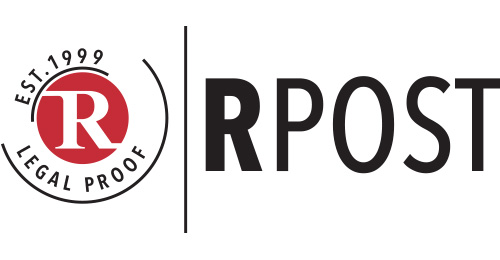 RPost, a leader in e-signature automation and email cybersecurity software services, is partnering with the Independent Insurance Agents of North Carolina (IIANC) in its continued expansion of RPost's e-signature and email security services, including encryption privacy compliance, certified delivery proof, secure file share, and impostor protection. "To IIANC and its members, I want to say we're here for you," states RPost CEO Zafar Khan. "We have a skilled team that is always available to meet and exceed your needs. RMail and RSign simply make business better for you. We can't be anything less than the best e-sign and e-security product with the best people and service to support you."
RPost's main products that are now accessible for IIANC and its members are:
RMail®, an all-in-one email extension for security, compliance and productivity, providing senders with simple-to-use compliant email encryption with encrypted replies and AI automation, email open tracking, Registered Email™ certified e-delivery proof, electronic signatures, secure large file transfers, auditable proof of compliance, and more. Powered by patented Registered Email™ technology, RMail returns a Registered Receipt™ record for every message sent, providing and proving important e-delivery details and data privacy compliance.
RSign®, a simple to use, full featured, web-based e-signature service that makes it easy for signers to complete and e-sign documents electronically using any web browser in an intuitive, guided signing process. RSign includes reminders & notification automation and rules, real-time delivery and signoff audit trail and history, bulk e-signing, as well as encryption, templates, advanced form features, advanced security and policies, and signer authentication.

RPost is a leading e-signature and cybersecurity company providing email security, compliance, and e-sign productivity services, used by more than 25 million worldwide over more than a decade. RPost has set the global standard for secure and certified electronic communications, with more than 50 patents granted on its core Registered Email™ technologies, used everywhere to track and prove email delivery, encrypt email, protect from imposter email, secure large file transfers, and manage e-signature transactions.
Docusign

Did you know that DocuSign is used by 11 of the top 15 insurance carriers? DocuSign is the global standard for eSignature® and more than 40 million people around the world have DocuSigned. That's why the the Big "I" has endorsed DocuSign as the official electronic signature platform for our members.
Discover how you can benefit from DocuSign today:
Accelerate revenue: Reduce the application process by weeks by eliminating faxing, mailing, printing and scanning - for you and your client. Invest your new-found time in expanding your business.
Reduce E&O exposure: Ensure documents are 100% in good order, by guiding applicants through the signing process so no fields, initials, or signatures are ever missed.
Delight clients: Give your clients the convenience to complete documents online in minutes, from any device. The ease of using DocuSign increases client satisfaction and retention.
Fits with your existing workflow: Complete applications, renewals, coverage forms and other documents, then submit the forms to your carriers or save a copy in your agency management system.
Ready to experience the benefits of DocuSign?
Save 20% on an annual plan with the exclusive Big "I" member discount or try it free for 30 days.