2023 Agency Leaders Executive Retreat
March 26 to 29, 2023
Omni Grove Park Inn, Asheville, NC
About
Speakers
Schedule
Registration
Hotel Information
About the Event

Please note: Registration is now closed.
Join us March 26-29, 2023 at the beautiful Omni Grove Park Inn in Asheville, NC for the highly anticipated Agency Leaders Executive Retreat - crafted and designed exclusively for agency owners, principals, and those on a direct path towards future agency leadership. Some of the industry's foremost thought leaders and subject matter experts will delve into the hottest topics facing owners today including:
Hiring and utilizing outsourcing services

Setting a data strategy for your agency

Making your financial statements work for you

Utilizing your AMS for marketing

Making workplace culture your competitive advantage
Company and vendor representatives are welcome and encouraged to attend the Agency Leaders Executive Retreat. While there is not a trade show, this event provides a unique and valuable opportunity to network with agency decision makers in a relaxed and informal setting. We hope to see you there!
Schedule
Explore the schedule by expanding the dates below.
Sunday, March 26
4:30pm - 6:00pm
Welcome Reception / Meet & Greet
6:00pm
Monday, March 27
7:30am - 8:30am
8:30am - 9:45am
General Session - Economic Outlook: When Will We Return to a Normal Economy?
Speaker: Dr. Michael Walden
As business owners, the state of the economy is a consistent topic of concern. Dr. Walden will review the recent paths of both the national and North Carolina economies, and discuss how we arrived here. Major emphasis will be given to inflation, interest rates, and the labor market - including the labor shortage. Policies used to bring the economy back to a normal condition will be discussed, with an emphasis placed on actions of the Federal Reserve. The presentation will conclude with forecasts for 2023 and 2024 and with a discussion of the lasting economic effects of Covid-19.
9:45am - 10:00am
10:00am - 11:00am
Breakout Sessions (choose one):
#1: Jumping Into Virtual Success
Speaker: Jason Sabo
Many agencies find themselves struggling with staff workload and efficiencies. I hear all the time that "my staff says they are too busy, but it doesn't seem like they are!" During this session, I will show you how to free up bandwidth by utilizing Virtual Assistants so your staff can focus on more revenue generating activities. Imagine what could be accomplished if you could free up 40% of your employees' time?!
#2: How to Measure and Manage Employee Productivity
Speaker: Angela Ford
What type of team do you have? Do you have a sales-focused agency team or service-focused agency? Hopefully, your agency is focused on both, but how can you be sure? You need a strategy to measure and manage both sales and service productivity in your agency.
In this session, you'll learn key insights to:
• Create a culture of problem solving and continuous improvement.
• Understand key productivity measurements and why they're important.
• Improve communication (i.e., Say it often, say it clearly, keep it positive).
• Identify the right questions to ask to build employee trust and encourage productivity.
• Develop an agency matrix to monitor and measure productivity and progress.
#3: Define Success to Achieve Success
Speaker: Jeremy Wall
If asked today, would everyone on your leadership team articulate the same shared vision, 3-5 years from now? More so, could you or others at your office tell me what the agency's goals are for this year?
In this session you will learn where to start and how to continually improve your own goal-setting process, both for the short and long-term goals. Effective leaders use goals to align the entire team around a shared vision of the future, and as a tool to empower those around them to focus on the daily actions and decisions that move the entire agency toward defining and achieving success.
Your three major takeaways for this session are:
• Refine your long-term goal, aka your vision, that moves everyone together toward a shared future.
• Understand the three fundamental types of agency-wide goals (financial, customer, & employee) and how to measure and manage your progress to achievement this year.
• Establish the frameworks that must be in place to create 'good goals' for the agency, departments, and individuals.
11:00am - 11:15am
11:15am - 12:15pm
Breakout Sessions (choose one):
#1: Making Your Financial Statements Work for You!
Speaker: Carey Wallace
Financial statements do not need to be intimidating. In this session we will review the three core financial statements in your agency, what you should be looking for on each statement, the benchmarks or metrics that are important to track and the action you can take as a result of reviewing these statements regularly. You will leave this session knowing how your financial statements can work for you!
#2:
Discover and Leverage Your Natural Strengths
(WIN Members Only)
Speaker: Marit Peters
Learn how understanding your instinctive talents can maximize your performance. Kolbe measures your instinctive way of doing things and the result is called your MO (method of operation). It is the only validated assessment that measures a person's conative strengths*. By understanding the way you naturally take action you will be able to:
• Harness your best talents
• Understand how your inherent talent affects team dynamics
• Enhance your communication, coaching, and mentoring skills
*Prior to the conference each WIN member will have the opportunity to complete their Kolbe A* Index—an online questionnaire that takes about 20 minutes. They will receive a detailed and personalized report that explains their instinctive strengths and unique way of getting things done.
Speaker: Dustin Wambsgans
A consultative sales approach focused on building a culture of accountability where producers must consistently produce new business at levels consistent with today's best practice agencies.
- Identify and develop unique agency sales narrative
- New business Prospecting Process
- Renewal Selling Process
- Cross selling Process
- Customer Onboarding
12:15pm
Lunch on Your Own / Optional Activities
We've arranged several optional activities for you to continue the networking and relationship building with your peers while enjoying all that Asheville has to offer. Please note that space is limited for each activity.
- WIN Networking Outing (by invitation only for WIN members)
Led by IIANC's own Aubie Knight, we'll make our first stop at the Sierra Nevada Brewing Company. Next, we'll hop over to downtown Asheville to visit several of the popular breweries. *Note that the price includes roundtrip transportation only. Any food/beverage purchases will be at an additional cost.
Tuesday, March 28
8:00am - 9:00am

9:00am - 10:15am
General Session: The Tip Jar Culture
Speaker: Gregory Offner
What makes a piano bar one of the most engaging environments on the planet? It's the "Tip Jar Culture™️" that you find once you step inside.
​Imagine what it would feel like if each person in your organization took the 3 elements of engagement from the Tip Jar Culture and brought them into work each day at your organization?
Using stories, songs, and statistics, attendees will learn about the 3 elements of engagement, found within the P.A.C.T. framework (Participation, Appreciation, Collaboration, and Transformation), and how they use this knowledge to create more impact and find more enjoyment in the work they do each day.
ATTENDEES WILL GAIN:
- Understand the true cause of disengagement, and the leading cause of engagement.
- Discover the 3 types of people in any organization, and what that tells us about the experience they expect at work.
- Learn what employees really think when they hear the words engagement & retention.
10:15am - 10:30am
10:30am - 11:30am
Breakout Sessions (choose one):
#1: Setting a Data Strategy for Your Agency
Speaker: Carey Wallace
In this session we will cover five different case studies of how agency owners became data-driven. We will talk through real examples how they utilized the data that already existed inside their agency and turned that data into insights and action. We will explore how data can increase new business production, create capacity, improve retention, set you apart from others when recruiting new talent and best position you for the future by increase the value of your agency. Come prepared to gain practical takeaways that you can implement in your agency.
#2:
How to Design a Competitive Compensation Plan – It's More than Money
Speaker: Marit Peters
While pay is typically a top priority when considering a job, today's workers expect more from compensation packages than money alone. Healthcare, retirement plans, flexible work hours, opportunities for growth are just a few of the additional benefits you can offer employees as part of a competitive compensation package. Learn how to design and implement a dynamic compensation plan for your agency that attracts and retains top talent.
#3: How to Utilize AMS for Marketing
Speaker Dustin Wambsgans
Free up your staff's bandwidth allowing for better customer service, opportunities to round out your book and get new business in creating a client experience second to none.
- Create an automated Customer journey
- Multi step marketing campaigns
- New business and Cross sell campaigns
- Reduce E&O exposure
- Maximize your agency's potential
11:30am - 1:00pm
Lunch and General Session: Ready, Set, Go - How to Take Action on What You've Learned
Speaker: Marit Peters
We'll reflect on what we've learned, review key takeaways and make a plan to apply the new insights and strategies you've learned in your agency. Now is the time to start maximizing your agency!
1:15pm - 2:15pm
Breakout Sessions (choose one):
#1: Breaking Down How Technology Can Increase Your Agency's Value
Speaker: Carey Wallace
Technology choices are plentiful, in fact they can seem overwhelming and costly for many agency owners. In this session we will review some examples of the most impactful technology solutions that agency owners have adopted to improve their efficiency, productivity and ultimately increased their overall value. We will review the process that these agency owners followed to identify, select and implement the technology so can learn from their experiences.
#2: How to Make Workplace Culture Your Competitive Advantage
Speaker: Rebecca Shigley
A strong company culture with high employee engagement can be a game-changer for your agency! Key takeaways include:
The benefits of a strong company culture, including improved morale and productivity, reduced turnover, and the ability to attract top talent
Strategies for creating a positive and inclusive work environment that supports your core values
Tips for regularly measuring and assessing the effectiveness of your culture
The role of leadership in promoting and maintaining a strong company culture
#3:
Finish the Race Well! (Effective Onboarding and Training)
Speaker: Jason Sabo
In this session, I will go over one of the biggest areas of opportunity to boost your new hire retention. Creating an effective Onboarding and Training process for new hires is a great way to make sure you set your new employee up for success. Too many times, new hires are left to "sink or swim" when joining a new agency. After you make a hire, it is so important to continue to set them up for success. Join me and I'll show you how!
2:30pm - 3:30pm
Quick Connects (by appointment only) / Free Time
6:00pm - 10:00pm
Annual Casino Night Party & Dinner
Registration
Registration is now closed.
Pricing (Agents):
Agents are classified as those who are employed by independent insurance agencies in the state of North Carolina. Company representatives, vendors, and exhibitors are not eligible to register for these functions/pricing (even if they are licensed agents).
| | | |
| --- | --- | --- |
| | IIANC Member Agents | Non-Member Agents |
| Full Conference Registration | $299 | $599 |
| Spouse / Guest* | $199 | $199 |
| *personal spouse/guest only - cannot be a co-worker or agency/company employee | | |
Pricing (Company Representatives):
| | | |
| --- | --- | --- |
| | PARTNERS | Non-PARTNERS |
| Networking Pass | $499 | $999 |
| Spouse / Guest* | $199 | $199 |
| *personal spouse/guest only - cannot be a co-worker or agency/company employee | | |
Cancellation Policy
Notice of cancellation for individual registrations for IIANC's Agency Leaders Executive Retreat must be submitted in writing to acruickshank@iianc.com. Refunds will only be given to cancellation requests received by close of business 10 business days prior to the event. Substitutions of attendees may be made in writing until five business days prior to the event. Any changes (including substitutions) made to an existing registration will incur a $25 processing fee. This cancellation policy will remain in effect in cases of inclement weather as long as the event/conference is not cancelled.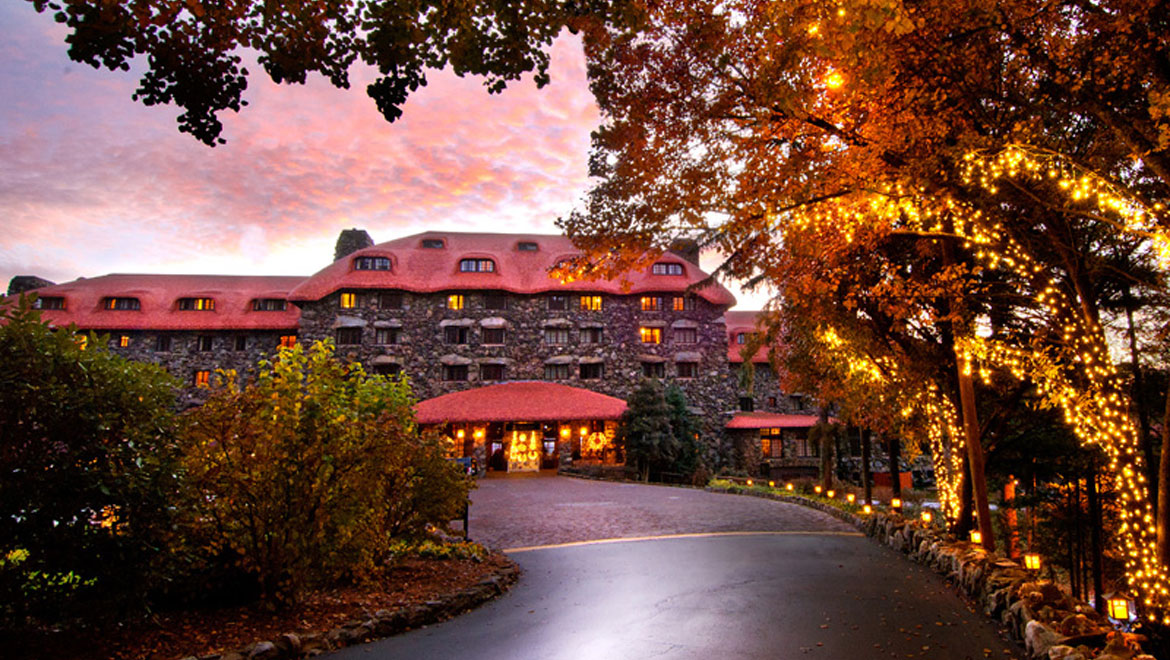 Omni Grove Park Inn

290 Macon Ave.
Serving guests for over a century, The Omni Grove Park Inn welcomes you with a tradition of southern hospitality amidst the beauty of the Blue Ridge Mountains. Relax in our unique subterranean spa with an indoor pool or enjoy a round of championship golf on our Donald Ross-designed course. When it's time to dine, enjoy one of our four locally-sourced restaurants. Then, retreat to stylish 5 star hotel rooms with stunning views and plush bedding. We know you'll enjoy the classic comfort and modern convenience of our resort.
Our group block at the hotel is now SOLD OUT. To be placed on a waiting list for rooms, contact Allyson Knott at aknott@iianc.com
Suggested nearby hotels*:
*We do not have discounted rates at these hotels - please contact them directly for their current rates.
Please note, due to overall demand, the resort is unable to guarantee the availability of Spa day passes or Spa treatments on any specific day. We strongly recommend guests make their Spa Treatment reservations at the time they make their room reservation, to ensure the best selection and times. Guests can book spa treatments by calling 1-800-438-5800. A confirmed room reservation is required for treatments before you can make an appointment.