Finding and hiring the right staff to maintain and grow your business is an important key to your success, and likely your biggest challenge. IIANC is now partnered with
CareerPlug
, our recruiting software of choice, to support all IIANC members in hiring. CareerPlug provides an easy-to-use system that automates many of the tedious, manual steps of the hiring process. Over 180 franchise brands and associations (12,000+ clients) rely on them to consistently hire and develop the right talent.
Every IIANC member receives a free CareerPlug account that comes with a branded careers page, pre-built job templates, and a configured hiring process. CareerPlug's built-in evaluation tools help you confidently identify, interview, evaluate, and hire the right person.
If you have urgent hiring needs, we highly recommend that you upgrade the free account to paid Pro subscription at an exclusive partnership rate of $595/year*
(that's only $41 per month!) for unlimited job postings to top job boards (Indeed, ZipRecruiter, GoogleJobs, Facebook Jobs, etc.), and use of personality assessments.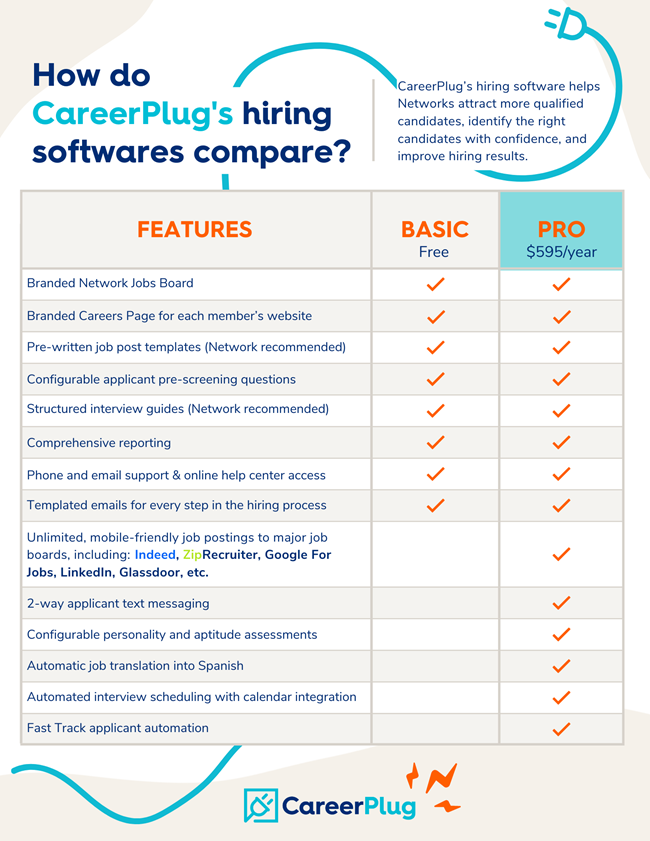 IIANC recommends that all members activate their free accounts immediately and upgrade to the "Pro" version if you have urgent or upcoming hiring needs!
See this flyer
for more details and instructions on how to activate your free account.
"We have had 6 applicants so far to fill our position(s) in office. The site is extremely easy to use and I am pleased with how it sets interviews and adds them to my calendar without me having to send out an invite personally. It's neat and concise and just what we needed to get our job posting out into the world!" - Current IIANC Member
For additional help with activating or upgrading your account, contact
upgrades@careerplug.com
. Be sure to
bookmark CareerPlug's Help Center
for a library of getting started resources and how-to guides.
Need help?
You can email CareerPlug for assistance at
activate@careerplug.com
or email Jason Sabo, IIANC's Business Consultant, at
jsabo@iianc.com
. You can also
activate your free account here
or call CareerPlug at (512) 579-0163.